It's Youth Group Time!
*High School YG begins Sunday, Sep. 10th.
*Middle School YG begins Tuesday, Sep. 12th.
Both meet weekly from 6:30-8PM.
Join us for fun activities, relevant big group topics, and relational small group discussions!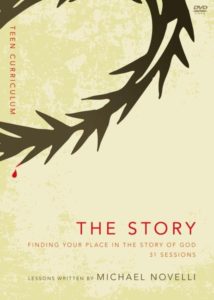 The Story
This year MCC will journey through The Story together.
We will also be using The Story Curriculum during our youth group times. Together, we will see how  our stories relate to Gods bigger story. Each student will receive a copy of The Story for Teens so they can follow along throughout the year.
High School Youth Group 
Sundays, 6:30 to 8 p.m.
MCC- Youth High School Youth Group is a relaxed place to hang out with friends, play fun (and sometimes crazy) games, learn more about who Jesus is, and interact in small groups. Oh… and there is always food!
Middle School Youth Group
Tuesdays, 6:30 to 8 p.m.
MCC- Youth Middle School Youth Group is an energetic place to just be you. There are active games and other not so active options, big group lessons and small group discussions. MS YG is a safe place to explore the tough questions and to transfer Knowledge into Faith.
All Students who participate in MCC-Youth Group are required to have a current Release form on file